WORKOUT
This week I started my official training plan from my pseudo coach, Rae. On deck was a speed session, a tempo run and a long run. Not to brag, but I nailed all of them (which can only mean that next week, I'll fail miserably).
The highlight of this week was definitely my long run. I did eight miles! I emphasize the distance because the last time I ran that much was…um…well this is embarrassing…my last half-marathon. Thankfully, the run felt awesome. I'll contribute that to hydrating the day before (and day of) and my excellent choice of music: the "Boy Band" station on Pandora. Who knew that Backstreet Boys, N*Sync and 98 Degrees were so motivational? The entire time I felt like I was a 15 year old girl that was chasing down Nick Lachey to take me to prom.
I averaged a 10:07 pace for the run and am extra proud of my relaxed pacing. Once I hit five miles, I cranked up the pace and finished strong. That's big news for me because usually I finish runs half-dead, laying in the driveway and quietly requesting an ambulance.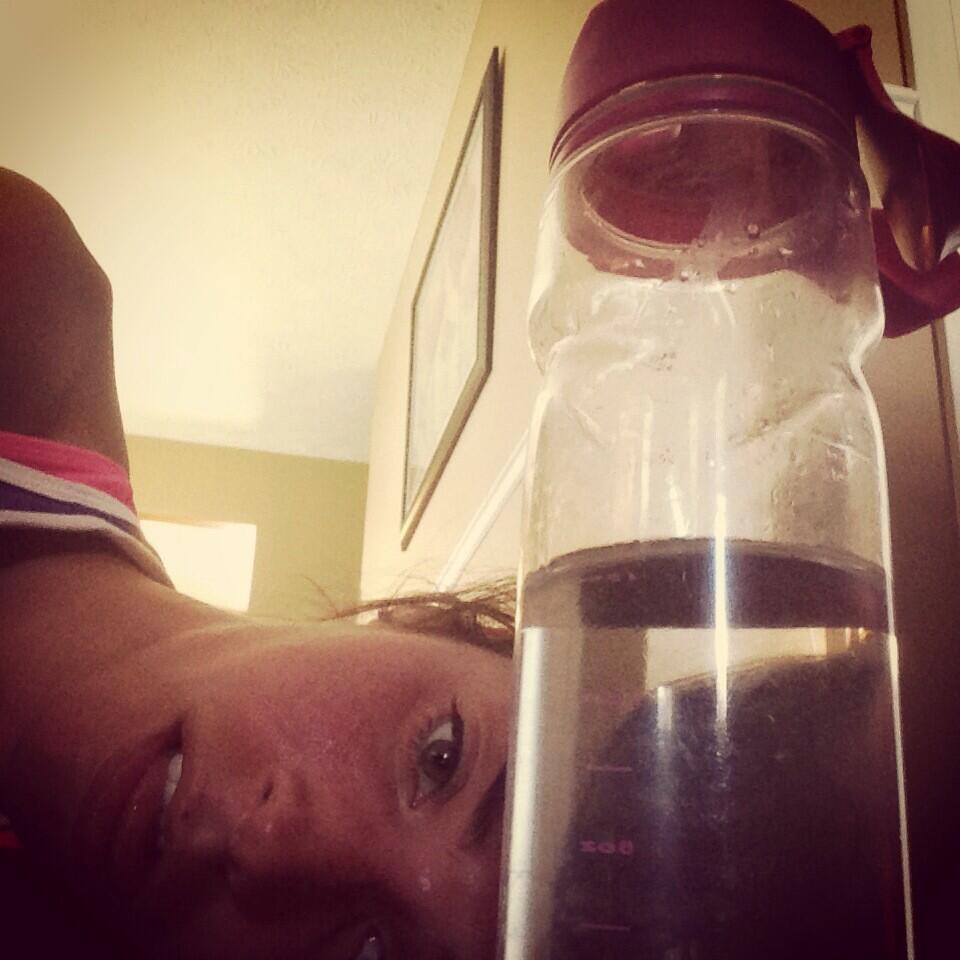 On deck tomorrow is a 3×1600 speed session. (<—- that's me talking like a real runner, with my runner jargon. I'm such a professional.)
___________________________
Happy Monday everyone! Am I the only one that's appalled that it's already August? Furthermore, yesterday marks Caroline's 11 month birthday. The date provides me with the perfect mixture of disbelief and sadness. Last year at this time, I was picking up my new "family" car and nesting in anticipation. Now, I have a rambunctious almost-toddler who is becoming sassier by the day. Alright, enough of my personal "woes of motherhood"…let's get to chatting!
I realize I only blogged once last week, but for good reason. For starters, this husband of mine went on a business trip for a few days. Selfish, right? Thankfully, my mom came over to spend some time with C-Rock and I. Mom and I watched movies, TV, hung out, went out for dinner. It was basically like living at home again except we were at my house and I had a baby. I never was a single mom when living at home with my mom. That would have been awkward.
Anyway, us three gals had lots of fun, but C-Money missed her "Da." So much so that every time I buckled her into her car seat, she'd yell "DA! DA!" as if we were going to go pick him up. To make matters worse, I told her all day on Friday that Da would be home that night and then his flight got cancelled. Caroline called me a liar, said she'd never trust a single word that comes out of my mouth again and then slapped me hard across the face.
Not really. But she was pretty pissed that he wasn't home.
Aside from being a temporarily single mom, I also have some big news to share.
No, I didn't sign up for another half-marathon. That's OLD news, guys.
I did get a teaching job for the upcoming school year! Needless to say, starting next month I'm going to be very busy. I'm excited, scared, nervous and anxious—emotions just describing how I feel about leaving my Liney. BUT I know she'll be proud of me. Plus, I'll have so much more money to buy her important things like hair accessories and Baby GAP jeans. When in doubt, just buy your child's love, right?
Gosh, upon further inspection of my brain…I realize that this is a horrible, boring post that does nothing, but brag about me. However, "me" is my favorite topic and should be yours too.
Alright, maybe I'll be back again tomorrow with more exciting news like how I don't have any pretzel m&m's left or how my favorite ice cream is a dollar off this week at Target. You know, news breaking headlines like that.
_____________________
Anyone else get in a good long run this weekend?
When alone in an empty house, what scares you more: potential ghosts lurking around or potential violent criminals? What a weird question.